Modellbogen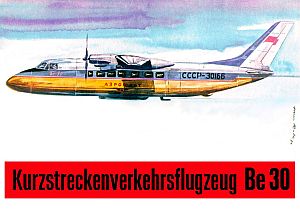 Titel:  Kurzstreckenverkehrsflugzeug Be 30
Konstrukteur:   Roland Brückner
Titelzeichnung:  Hans Räde
Erscheinungsjahr:  1971
Herausgeber: Verlag "Junge Welt"   Redaktion:  keine Angaben / JW
Bestell-Nr.:  71-8M     Preis:  1,50 Mark
1. Abbildung - Umschlagseiten mit Bauanleitung
(zum vergrößern anklicken)
Der Modellbogen des Kurzstreckenflugzeuges Be 30 hatte als Vorbild ein sowjetisches Passagierflugzeug aus dem OKB Berijew. Die Modellkonstruktion im Maßstab 1:50 wurde von Roland Brückner entworfen. Es war seine letzte Modellkonstruktion in dieser Reihe. Die Titelzeichnung gestaltete Hans Räde. Der Modellbausatz im A 4 Format bestand aus 4 Umschlagseiten mit Bauanleitung und 6 Bastelseiten mit den Bauteilen. Die Bastelseiten untergliedern sich in 2 Kartonseiten für die Teile der Stützkonstruktion und 4 mit Metallfolie für die anderen Bauteile. Der Modellbogen ermöglicht den Nachbau des sowjetischen Kurzstreckenverkehrsflugzeuges Berijew Be 30 aus dem OKB Berijew (ОКБ Г.М. Бериева). Das Modell war mit der sowjetischen Kennung AEROFLOT SSSR-48978 / АЭРОФЛОТ  СССР-48978 versehen. Die Informationen zum Flugzeugtyp sind ausreichend. Die Bauanleitung ist sehr detailliert und mit zahlreichen Skizzen gut ergänzt.
2. Abbildung - Bastelseiten
(zum vergrößern anklicken)
Die Bastelseiten zeigen eine qualitativ gute Modellkonstruktion. Die Bauteile sind sehr übersichtlich angeordnet.
Quelle Bilder und Text       Original Modellbogen / Modellbaufreunde Ulrich Günscht und Lothar Schlüter 
Bildergalerie von gebauten Modellen
(zum vergrößern anklicken)